Find out where Sharon will be signing and/or presenting right here. Her appearance schedule is updated as new events are booked.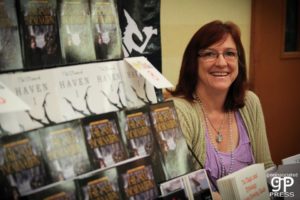 Upcoming Appearance Schedule:
Saturday & Sunday April 13-&14, 2019 10:00am-5:00pm: LA Times Festival of Books, University of Southern California Campus, Los Angeles, CA, Brick Cave Books Booth #156
Arizona State Library Writer-in-Residence at Tempe Library, Feb.-April 2019
Make one-on-one consultations with Sharon and get feedback and advice on your writing.
February One-on-One Consultation Sign Up
Workshop series: Six Steps to Crafting a Strong Story
All classes will take place in Meeting Room A, lower level of the library
Session 1: Setting: Where in the World…?, Saturday, Feb. 9, 1-3 p.m.
Session 2: Point of View (POV): Who…are…You?, Saturday, Feb. 23, 10 a.m. – Noon
Session 3: Character: The Arc and the Covenant, Saturday, March 9, 10 a.m. – Noon
Session 4: Plot: More than Just a Walk in the Park, Saturday, March 23, 10 a.m. – Noon
Session 5: Tick, Tick, Tick: Conflict and Tension, Saturday, April 6, 1-3 p.m.
Session 6: Inside/Out: Emotion and Sensory Detail, Saturday, April 20, 10 a.m. – Noon
*This program is supported by the Arizona State Library, a division of the Secretary of State, with federal funds from the Institute of Museum and Library Services.
Thursday-Sunday May 23-26, 2019: Phoenix Fan Fusion, Brick Cave Booth #486, Phoenix Convention Center, 100 N 3rd Street, Phoenix, AZ 85004 Also, in the AWW section Table Aisle 1201/1300
Booking Sharon:
Using the link below, sent us a message!