Find out where Sharon will be signing and/or presenting right here. Her appearance schedule is updated as new events are booked.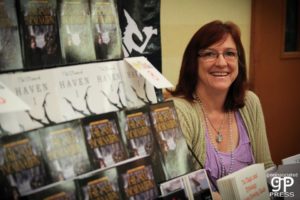 Upcoming Appearance Schedule:
Saturday, January 27, 2018, 2:30pm-4:00pm: Co-Presentating with Deena Remiel: Pay or Get Paid: Know Your Publishing Options, Mesa Main Library, Saguaro Room, 64 E 1st Street, Mesa, AZ 85201
Tuesday, February 6, 2018 4:00pm-5:00pm: Imagination Lab Story Time: Rocket Shoes @ Mesa Public Library, Dobson Ranch Branch, 2425 S. Dobson Road, Mesa AZ 85202
Saturday, March 3, 2018 10:00am-6:00pm: Ann Chamberlin's Books, Arizona Renaissance  Festival, 12601 E. US Highway 60 Gold Canyon AZ 85118
Saturday & Sunday, March 10-11, 2018 9:30am-5:30pm: Tucson Festival of Books, Brick Cave Booth # & Renner's Reads Booth #, University of Arizona Campus, Tucson, AZ
Saturday & Sunday April 21-&22, 2018 10:00am-5:00pm: LA Times Festival of Books University of Southern California Campus, Los Angeles, CA
Thursday-Sunday May 24-27, 2018: Phoenix Comic Fest, Brick Cave Booth #, Phoenix Convention Center, 100 N #rd Street, Phoenix, AZ 85004
May-July 2018 Arizona State Library Writer in Residence at Mesa Public Libraries: SCHEDULE COMING SOON!
Booking Sharon:
Using the link below, sent us a message!