Find out where Sharon will be signing and/or presenting right here. Her appearance schedule is updated as new events are booked.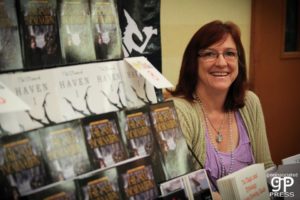 Upcoming Appearance Schedule:
Thursday-Sunday May 24-27, 2018: Phoenix Comic Fest, Brick Cave Booth #486, Phoenix Convention Center, 100 N 3rd Street, Phoenix, AZ 85004 Also, in the AWW section Table Aisle 1201/1300
May-July 2018 Arizona State Library Writer in Residence* at Mesa Public Libraries:
Character: The Arc and the Covenant
Sat | June 2 | 10:00am – 12:15pm | Mesa Library Red Mountain Branch-Roadrunner Room
A well-rounded character is critical for believability. All fiction requires some a level of suspension of disbelief, but "real" characters make the plot–and ultimately the story–believable. This workshop will explore a variety of methods for creating multi-faceted, compelling characters who won't fall flat.
Plot: More Than Just a Walk in the Park
Sat | June 23 | 10:00am – 12:15pm | Mesa Library Dobson Ranch Branch
We've all seen that old plotline that looks like the front end of a roller coaster, but plot is more than just rising action based on a series of increasing complications. It's the engine that drives the narrative and needs to fire on all cylinders to rev up and captivate readers. This workshop will offer methods for creating a compelling plot that leads to a satisfying conclusion.
Sat | July 7 | 10:00am – 12:15pm | Mesa Library Red Mountain Branch-Roadrunner Room-Dobson Meeting Room
Conflict reveals character. Raising the stakes and keeping the pressure on will have your reader turning pages to see what happens next. Join Writer in Residence, Sharon Skinner, for a deeper look at the elements in play that create both internal and external conflict and rising tension and keep readers engaged.
Sat | July 21 | 10:00am – 12:15pm | Mesa Library Main Branch-Saguaro Room
Emotion and sensory detail are important aspects of engaging the reader and providing relatable characters and experiences. The first half of this workshop will focus on infusing the story with emotion. The second half of the workshop will provide exercises for including sensory details in your fiction, using all five senses.
*This program is supported by the Arizona State Library, a division of the Secretary of State, with federal funds from the Institute of Museum and Library Services.
Booking Sharon:
Using the link below, sent us a message!