Find out where Sharon will be signing and/or presenting right here. Her appearance schedule is updated as new events are booked.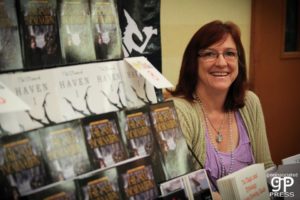 Upcoming Appearance Schedule:
December 14, 2019: Mesa Book Festival–Mesa, AZ
2020
January 11, 2020, 10:00 AM – 12:00 PM: Workshop–Hooking New Readers: Effective Display and Reader Engagement at Events: Tempe Public Library, 3500 S. Rural Rd. Tempe, Arizona 85282 Library Meeting Room A
Feb-Mar: Brick Cave Writing Master Classes: February 6th & 20th and March 5th & 19th 6:30-9:00pm @ Mesa Chamber of Commerce
February 21-22, 220: Desert Nights, Rising Stars, ASU Campus, Tempe AZ: Brick Cave Booth Signing Appearance
March 14-15, 2020: Tucson Festival of Books, U of A Campus, Tucson, AZ: Brick Cave Booth Signing Appearance & Sunday, March 15, 4pm Book Biz Panel
April 18-19, 2020: LA Times Festival of Books, USC Campus, Los Angeles, CA: Brick Cave Booth Signing Appearance
May 2-3, 2020: Bay Area Book Festival, Martin Luther King, Jr. Civic Center Park, Berkeley, CA:
Booking Sharon:
Using the link below, sent us a message!