The HBS Author's Spotlight SHOWCASES Rocket Shoes, a hardcover picture book for every kid who wants to fly. Don't Forget: Sharon will be at the Tucson Festival of Books 2018 University of Arizona Campus – March 10 – 11, 2018 – 9:30am to 5:30pm See appearance schedule for...
So, back to writing picture books, Conference Critiques (and the Cinderella Dream).
I submitted my PB ms for a critique at the 2015 SCBWI Summer Conference, knowing full well that the true purpose of submitting for critique critiques is to get professional level feedback on the work. However, like many authors and illustrators, deep in my heart, I hoped for the Cinderella dream. You know, the one where the glass slipper fits so perfectly, the assigned agent/editor makes an immediate offer of representation/publication. Yeah. That's the one.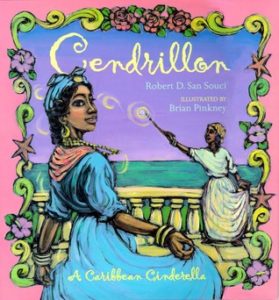 Cendrillon: A Caribbean Cinderella by Robert D. San Souci, Brian Pinkney (Illustrator)
Submitting the manuscript is always a big step in the publication journey. It's as true for submitting picture book manuscripts as anything else. After two years of writing, revising, re-visioning, asking for feedback from other picture book authors, and more rewriting, I finally had a PB ms (Picture Book...