So, back to writing picture books, Conference Critiques (and the Cinderella Dream).
I submitted my PB ms for a critique at the 2015 SCBWI Summer Conference, knowing full well that the true purpose of submitting for critique critiques is to get professional level feedback on the work. However, like many authors and illustrators, deep in my heart, I hoped for the Cinderella dream. You know, the one where the glass slipper fits so perfectly, the assigned agent/editor makes an immediate offer of representation/publication. Yeah. That's the one.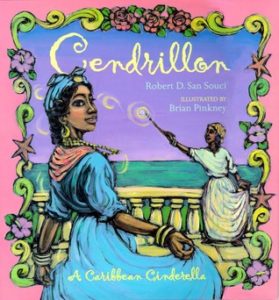 Cendrillon: A Caribbean Cinderella by Robert D. San Souci, Brian Pinkney (Illustrator)
Since the beginning of this writing journey, I have wanted to write a picture book. And, like many authors, I have more than one abandoned picture book manuscript to my name. I sometimes imagine them huddling together in a drawer somewhere, trying to keep warm. Out of sight, but not necessarily out of mind. I still love the ideas for those stories deeply, but I just could not figure out how to make them work.
While writing novels is not particularly easy, I found myself better able to figure out the structure of the longer format. I still had to study my craft, and learn to edit with an iron fisted pen, but it has always felt more natural to me than the shorter, "easier" children's picture book format.